BASSOON
---
---
"in the
beginning"
DAVID ROSENBOOM 2012
---
Comprising singer and guitarist Rodrigo Amarante (of Los Hermanos), singer Binki Shapiro, and drummer Fabrizo Moretti (of the Strokes), Little Joy creates with their debut a thoroughly enjoyable album of sweet, simple indie pop. The mood is

laid-back and bright, with stylistic flashes of reggae, MPB, folk, soul, and soft rock (with no little influence from the Beatles and the Beach Boys), and the whole is satisfying from beginning to end. It invites the listener to open the windows, turn up the stereo, and kick back. And as seemingly breezy and feel-good as LITTLE JOY might be, the songs are surprisingly durable and invite repeated listens.
... Full Description
---
The Henry Mancini Institute Orchestra & Big Band
---
The Henry Mancini Institute Orchestra
---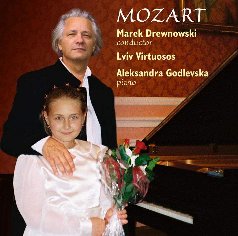 W.A.MOZART
Symfonia no.25
Piano Concerto no.21
MAREK DREWNOWSKI conductor
Aleksandra Godlevska piano